---
Participants of the EHM event can order the "custom made EHM polo" by sending an order E-mail  to; john@healeymenswear.com     

The polo has the EHM logo on the right brest,   "Union jack" on the left arm  and the Healey sign on the back.   
Price; € 60
Pick up your order at the Healey mens wear table.     
In the order-mail, please fill out : 
Name
Men size  :  M, L, XL, XXL or 3XL           
Woman size :   S, M, L  or XL
Color :  Blue or White   
Polo can be payed by normal bank transfer  to: 
J.G. Beunk  Iban nr.     
NL16ABNA 0524465789         
BIC  nr.  ABNANL2A     
Mention ;  Name, size and color.
---
---
Dear Healey friends! 
We wish you a merry Christmas and a Happy New Year! 
- EHM 2023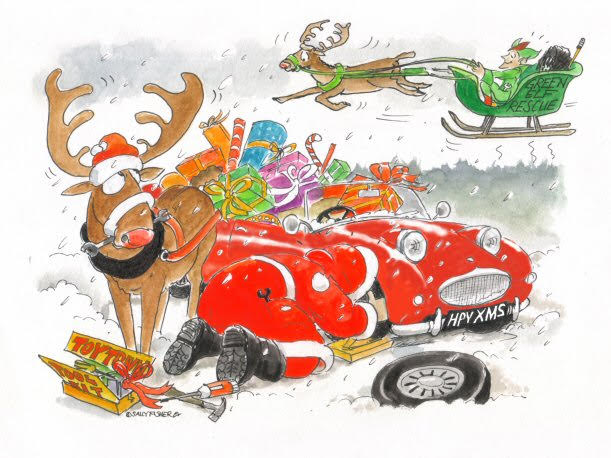 ---
Dear Healey friends
December is already here and we all go into pre-Christmas preparations. We would like to give a short update on next year's EHM and one activity where registration due date is approaching fast.
For Thursday 15 June, we have planned two different activities – "Rally Ålesund" and "Auto slalom", and it is the latter we would like to draw your attention to in this newsletter.
The auto slalom event is a fun competition where each car will drive a 500-metre track twice and where there are nice prizes for the top performing cars. The track requires no particular skills, and it is not a speed challenge. The event takes place in the area close to the Ville Krefter museum which is an old power plant rebuilt into a museum and activity centre, and lunch for participants will be served here.
Also in the vicinity (~10 kilometers) you can find the Zakarias dam, which is an impressive concrete structure used for hydro power production. At the time of construction (1968) the dam was the tallest in Northern Europe.
It is possible to visit the museum, the Zakarias dam, and even watch the auto slalom competition without being a participant. However, if you would like to have lunch at the Ville Krefter museum, this must be pre-ordered.
If you would like to participate in the auto slalom at the Ville Krefter museum, we ask that you please confirm your participation no later than 15 January 2023 by sending an email to treasurer@ehm2023.com. Price for participation is NOK 950,- per car which includes lunch for both passengers. The cost will be added to the second payment due 31 January 2023.
If you would like to buy only lunch at the Ville Krefter museum you need to confirm it by email day before the EHM 2023 start.
We wish you all a nice advent and will check-in again before Christmas.

Ville Krefter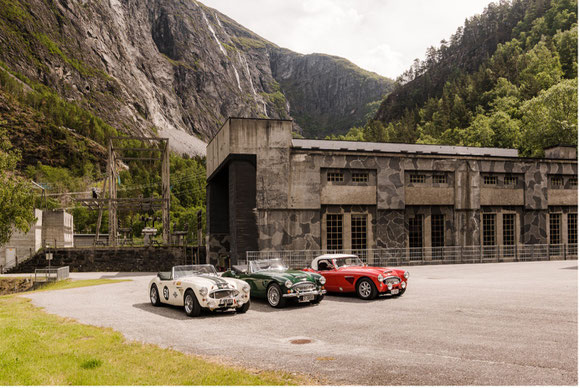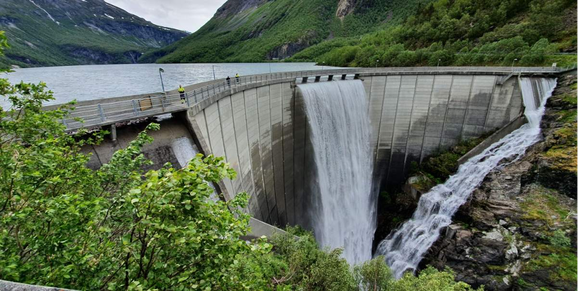 On behalf of the EHM2023 committee   
Lidek Berdychowski 
Chairman    
---
---
"Curves - Soulful Driving is an enthusiasts magazine produced in high quality for people who are passionate about driving cars, riding motorbikes or cycling and are in search of pleasure and adventure on the road.
People who want to escape the day-to-day routine and would like to fulfil an exclusive dream. It is magazine for people delight in celebrating the planning of a journey. It is for the enthusiasts and for the true believers who experience the journey in their mind before immersing themselves in the adventure itself."
Curves published lately Norway video with the beautiful roads between Tromsø and Oslo. As a participant of EHM 2023 you are getting a chance to experience some of these roads. Enjoy the video.
---
Breaking News!
EHM2023 Committee has now been able to secure a special EHM offer on ferry transport between Denmark and Norway with Fjordline available to all the EHM 2023 teams.
Fjordline is a major provider of ferry transports across the Skagerrak and their services entails transport  to various  ports in Norway from Hirtshals in Denmark.


Explore their offers here! Use the code; HEHM2023
---
Dear Austin Healey friends,                                                                                         
As summer break is finally upon us or quickly approaching, we thought we would like to give you a short update regarding next year's EHM 2023 in Norway.
Preparations and planning are well underway, and as part of getting in the right vacation mood, we paid a visit to Geiranger, our destination, and test drove some of the routes exactly one year before we all can finally gather there physically. As you can see from the pictures, it is an area of great contrasts. Deep valleys and long fjords make this part of Norway and the world a remarkable nature experience. With mountains literally stretching all the way down to sea level, the difference in altitude makes it possible to experience a green and lush valley side as well as a snow and ice covered mountain pass within a mere 30 minute drive. At times the roads are so steep that 180 degree turns are more the norm than the exception. Other times the mountain roads are so narrow that the surrounding environment feels as if its one with the car.
We were definitely breath-taken by some of the routes we drove and we hope that  you all will enjoy them as much as we have so far in preparing for next year's event.
We truly look forward to welcoming you all to EHM 2023 in Geiranger one year from now and wish you a wonderful summer!
Regards
Knut Horgen
Arnfinn Sørhaug
Lidek Berdychowski
Behalf on the EHM 2023 Committee 
Dear Healey friends
The EHM 2023 Committee is working very hard these days to ensure that the EHM 2023 is going ahead as planned.

We are aiming to put together an unforgettable gathering at Geiranger in Norway for all Austin Healey enthusiasts.
The booking was successfully completed early February and it is now time for all of us to make the first major payment. It is essential that you complete this payment due in time, enabling the treasurer to proceed with required interaction towards our hotels and other planned activities.
You will receive a separate email with a general update and 1st payment details within the week. 

We are really looking forward to this :) 

Kind regards
Lidek Berdychowski
Chairman
EHM 2023
---
Update Feb 2022:

We are proud to say Amundsen Sports is one of our sponsors. Just look at their great promo video here. 
---
Update December 2021:

Dear Healey friends
Thank you for your beyond interest for EHM 2023. Booking was overwhelming, but it took a relatively short time before we understood our under-capacity accommodation problem. Luckily, we saw a chance to improve hotel capacity by 25%.  We succeed not only with additional number of rooms but with our intentions to offer you best possible stay in Geiranger. It means many of you awaiting an answer, will receive by e -mail booking confirmation or waiting list confirmation. This process still takes some days, so please be patient with us.

Some preliminary figures, EHM 2023 has more than 250 bookings. One booking means 1 car with a crew. Beside that, we have significant waiting list. The pie chart below shows percentage of participations from corresponding countries.

We are preparing more info about possible routes, suggestions regarding best destinations and suggestions in Norway. Please look at our website EHM 2023. Any other question can be addressed by e-mail to  info@ehm2023.com

We wish you merry Christmas and happy new year 2022.

Lidek Berdychowski
Chairman
Behalf of EHM 2023 organizing committee.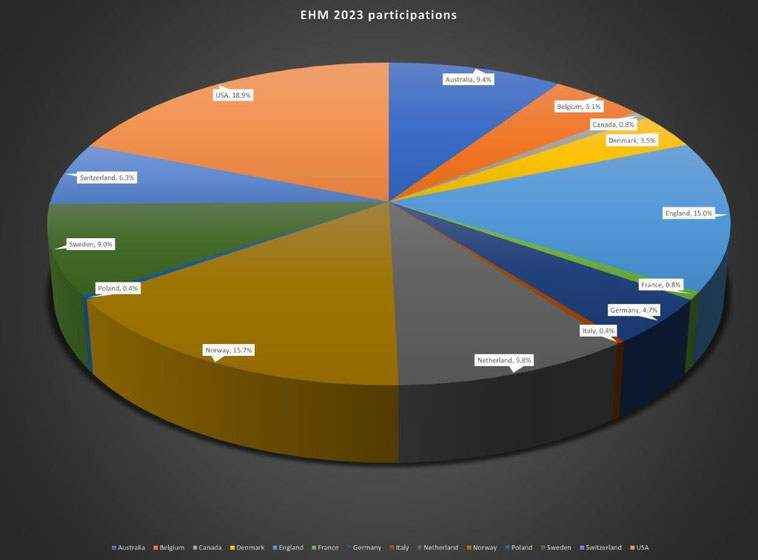 ---
Update October 2021:
Exciting news! On Saturday we will open up for bookings (30.10.21). We will remind you of this on our Facbookpage as soon as the booking is live.
Have a good week :)


Update (August 2021)! 


We are still following the pandemic situation, and this will of course affect our work and probably your decision whether to participate or not. However, we have at least decided to continue planning for an event in 2023 (June 12th-18th).
To continue our work, we need to know how many of you think will join us in Norway in 2023. In short time we will present a preliminary program, date of registration, registration fee and prices for participation.
PS: We would like to remind you that participation at EHM2023 requires membership of a national Austin Healey Club.
Dear Healey friends
The pandemic situation has hit the world hard and we still do not know the end of it. It will be many months until we can say that we have succeeded in fighting the Corona virus. Hopefully, there will be a vaccine available soon. Until then, we must do our best and follow what the authorities advise us to do in order to stay safe through these difficult times.
After considering all the circumstances, we have concluded that it will be difficult to plan and carry out an event in June 2022.
At this moment, national regulations in Norway prevent Geiranger Hotel to accept reservations for groups of more than 200 people. It is also difficult for possible participants to decide to come to Norway for the European Healey Meeting. Travel arrangements needs to be planned and cars to shipped which requires time.
Therefore, the organizing committee of the 6th European Healey Meeting has set new dates; we want to welcome all of you Healey enthusiasts to Hotel Union Geiranger, Norway 12.-18. June 2023.
Until then, we will continue planning and open a preliminary registration around springtime 2021. This will give us an indication of interest for the event. A mandatory registration will be possible autumtime 2021.
We will provide you with information on our website; ehm2022.com and you can join us on Facebook (European Healey Meeting 2022). We will change the name, from 2022 to 2023 in due time.
We hope you will stay safe and healthy!
The Organizing Committee - EHM 2023
---